Performing LIVE at
Bob Marley - A Tribute To Freedom
located in Universal CityWalk in Orlando, FL

Every Monday through Friday
9:00 PM - 1:30 AM
Premier LIVE Reggae, Soca, Calypso and Dancehall Music
Mystik NRG
was Voted "Best Reggae Act" in the Orlando Weekly's 'Best of Orlando' polls in 2008, 2007, 2004 and 2003
Join us Sun April 28, 2013 @ Kissimmee Lakefront Park for The Caribbean Fusion Concert! Music, Art, Food, Crafts and MYSTIK NRG!!! (DETAILS BELOW)

Mystik NRG
Orlando, FL
Oct 24, 2012 @ 12:23 PM

THANKS Omar!! We appreciate your kind words You can purchase our cd as a download through our website here, iTunes, or CDbaby. If you want an actual CD, try CDbaby. We are out of hard copies of the CD. Thanks again for your support, and hope to see you next time!! One Love, Tom.....Mystik NRG

Omar Ogenyi
London - UK
Oct 24, 2012 @ 9:57 AM

Hey Guys, Just have to say keep doing what your doing. The lady and I really loved your tribute night late year in late August at Bob Marley Night in Orlando. It was amazing and you made our night one of the best ever..bringing the love and passion from music to our hearts... You bought every one together that night and you all should be very proud of yourselves.. "Sankie" you are one of the best vocal singers I have heard.... Keep it up brother..

Thank you..

PS - Where can I buy your latest music from?

That "A" Guy
Orlando
Jul 24, 2012 @ 11:33 PM

You guys guys are jammon! A big piece of a fantastic weekend with a wonderful woman!

Greg
Tybee Island, GA
Jun 3, 2012 @ 5:21 PM

Heard your music while on the beach at Tybee, today. Very impressive. Made my day.

richie
orlando
Jul 19, 2011 @ 12:59 AM

see u this week !! i cant wait !! im needing alil MYSTIC NRG VIBE!!!

Nicolle Correa
Miami
Jun 27, 2011 @ 2:20 AM

See you guys at the 19th annual Florida French Connection Celebration on July 15, 16 and 17th in Cocoa Beach....

I hope to see everyone there in full support And lets see if someone can beat me this year in the "1 cent, 5 cent, 10 cent, dollar" dance off. HA! FOGET THE SMALL CHANE GEMMA BIG MONEY WINE!!!!!!!!!!!!!!!! THAT NEVER GETS OLD.

kmaker
Canada
May 13, 2011 @ 11:17 PM

Fantastic again boys. Great "tight" performance a couple of weeks ago at Mr. Marley's in Orlando. Thanks, Paul

Paul
Cold, Snowy, Canada
Apr 18, 2011 @ 11:28 PM

Coming back to Marley's....3 sleeps and can't wait to see you guys again.

richie
Jan 24, 2011 @ 7:52 PM

hey tom last week i heard sooo many comments about how the guitar guy sounded awesum!! big ups!! u were really into it..keep it up ...no woman no cry sounded insane!! the best ive heard!!

TomL
Orlando, FL
Sep 23, 2010 @ 12:01 PM

Mystik NRG would like to express our deepest sympathy to the Family and Friends of one our favorite people, Mark Wallace.
Crowne Plaza Melbourne Oceanfront
2605 North Highway A1A
1PM til 6PM
No Cover Drink Specials and DJ Apache !!



Hope everyone has a nice long Labor Day weekend!
We wanted to let you all know we will be heading to
downtown Orlando
next month (October) to be part of a great show @
Club 57 West.
506 Crew , Mystik NRG, Khamelien, Natural Vibes, Stupid Genius, a DJ, and more!
Looks like this will be a lot of fun, and we hope to see you out there!!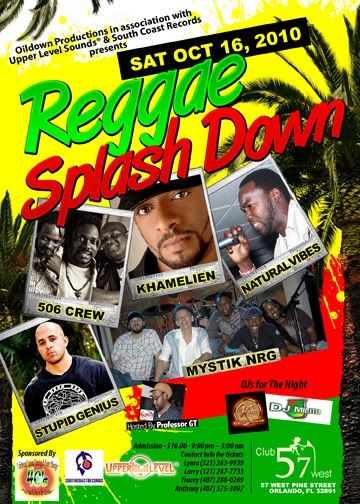 On Saturday, May 29th, Mystik NRG joined in a Special Concert at The Plaza Theatre to create awareness of the terrible situation in Darfur, Sudan. The night was filled with
music of unity and messages of peace and love for one another. This event was organized by Sudan native James Ngong who continuously carries on his great cause to bring an end to mayhem and destruction in his homeland. Visit
www.myspace.com/mrjnm
to read James' inspiring story of human survival.
You need Flash player 8+ and JavaScript enabled to view this video.
A video taken by one of our guests to Bob Marleys and posted to You Tube. Thanks!!